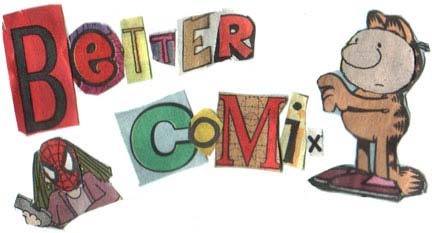 "Mashin' up the comix since before it was cool!"
A goofy concept by Jason Beattie

If you're like me (which I'm sure you aren't), when you read through the comics, you find very little to laugh at, as many of today's syndicated comics are very likely drawn by people who are in fact, dead*. The concept behind BetterComix is simply to take elements of two or more existing comics and combine them for a better result (that is, actually funny in some way).

For no particular reason, except perhaps to make the whole thing a bit more of a challenge, here are the rules I came up with for creating BetterComix:

The comics used must all be published on the same day.
It's all done cut and paste from the original print edition, (ransom-note style), no photoshop tweaking or resizing of any graphics or text.

Alright enough babble, without further Apu, enjoy BetterComix...!