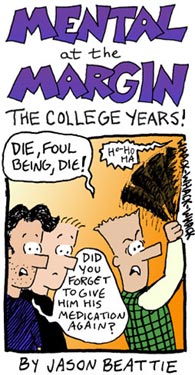 While a freshman at Brown University in Providence, RI, I learned that all one had to do to get a comic strip printed in the daily college paper was to, well, submit a comic to the daily college paper. With standards like this, how could I lose? So over 6 semesters, I drew three comics a week, several with actual punchlines.

"Mental at the Margin" made its spectacularly illegible debut on January 28, 1994, and fortunately got a little better after that. So, like an insane George Lucas tinkering with his masterpieces, I will attempt to bring you these digitally remastered comics. (I have pretty much just tweaked them for readability's sake, and mercifully fixed any misspellings. The crude drawing style remains.)


As there are over 200 of these strips, I haven't "remastered" them all yet...But eventually I hope the whole archive to be here. Enjoy...